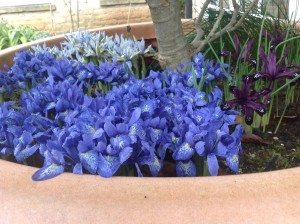 How gorgeous are these girls? All are dwarf iris and all named after girls which seems appropriate as we come up to International Women's Day. Katharine Hodgkin, the unmistakeable pale blue and yellow, Lady Beatrix Stanley (that mass of mid blue) and Pauline, elegant in deep purple. The great plantsman, E B Anderson crossed two rare irises in the 1960s and named the stunning result after his chum Eliot Hodgkin's wife. Katharine. The colours are so elegant, the patterns a joy – how wonderful to have something quite so beautiful forever bear your name.

I use three suppliers of bulbs – these come from Avon Bulbs http://www.avonbulbs.co.uk/. This is about their third or fourth outing. When the flowers die away, I feed them all with a liquid feed.
I am also feeding my Fritillaries now, even though the shoots are still tiny. This is because the fritillary bulbs are even now bulking up for the future and need some extra help. They smell really strongly of foxes but unfortunately this does not deter lily beetles who love them almost as much as lilies themselves.
Now sowing tomatoes.  Trying more bush tomatoes.  This is really hope over experience because I know my cold Oxfordshire garden isn't really tomato heaven.  But that's the deliciousness of gardening.